Luxury is hardly a human-only virtue. Amidst the dog days of summer falls National Dog Day, a time to celebrate the true masters of the house in style. Here are some of our favorite pieces to finish your furry friend's real estate while keeping with the elevated sensibility of yours.
BENTLEY HOME | JACKLYN DOG BED + BOWL
For the concours-goer with a frequent four-legged copilot in the passenger seat, consider this canine kitchen and master suite. Framed in curved wood with quilted leatherette, this splendid sleep station retails through Luxury Living Group and is as smooth on the eyes as it is to rest in.
MID-CENTURY ACADIA DOG BED | DOREL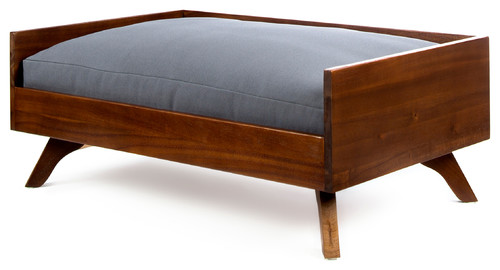 Here's one for the more Miesian mutts out there. With its minimalist, modern design, this pup piece from futon-forward furniture maker Dorel will keep your Don Draper aesthetic on point while giving Spot a place to unwind after all that running.
MONOGRAM DOG CARRIER | LOUIS VUITTON


With those classic Louis looks, the Carrier 40 bag is a first-class accommodation for travels to and from north of NYC, not to mention it makes all parties involved look chic. From the master walk-in to a jet cabin 36,000 feet in the sky, you can't go wrong.
ARTISAN DINER DOG FEEDER | BOWSERS

In real estate, we know the kitchen is the heart of the home, and everyone deserves a fancy feast. While there's no kibble coming off your Wolf range anytime soon, this doggo dinette is one of the nicest ways to share a meal with a furry friend short of building them a quarter-scale Carrara marble waterfall island.
GRAND MASTERPIECE BED | MICHAEL AMINI
A work of art for your ducal dog or aristocat. From the acclaimed AICO by Michael Amini, this carved mahogany bunk brings old-world elegance fit for the finest furry king or queen. It's available online from Houzz and via a handful of other retailers.